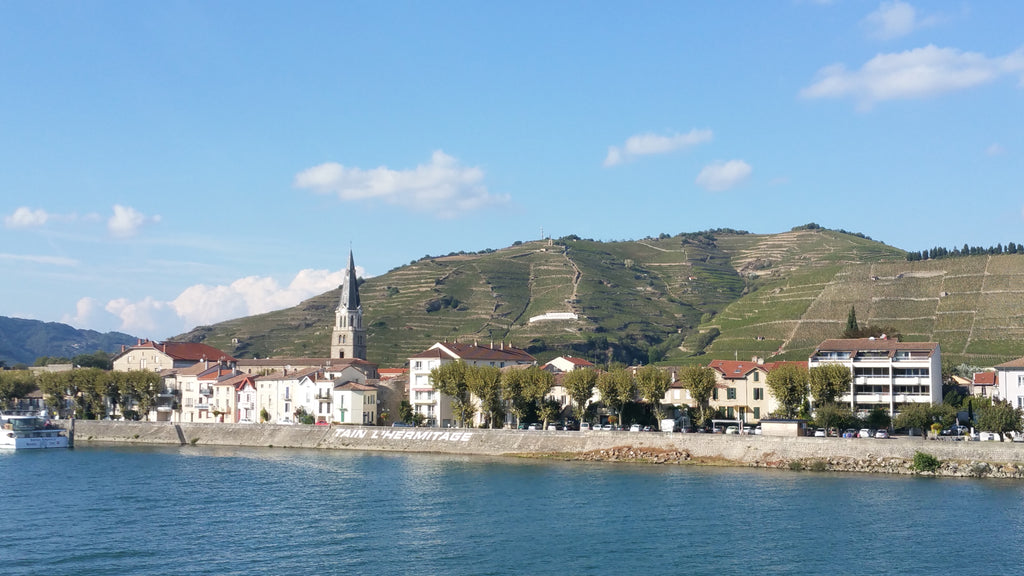 The Rhône Valley is prime hunting ground for The Wine Beagle so I thought I would put together a brief overview of this wonderful region.
The Northern Rhône.
The northern part of the region stretches from Côte-Rôtie down to Cornas. It accounts for just 5% of production but this is where you'll find some of the finest wines and grandest appellations (AOCs). Hermitage AOC and Château Grillet AOC to name a couple.
The only red grape permitted is Syrah and the whites are made from Viognier (Condrieu AOC for example), and/or Roussanne and Marsanne.
While much of production is small scale and expensive, more affordable wines can be found in the St-Joseph AOC and Crozes-Hermitage AOC.
The Southern Rhône.
The Southern Rhône (everything south of Montèlimar) is a different thing altogether. The climate is more Mediterranean, with milder winters, long warm summers and less rainfall.
In terms of grape varieties, Syrah is still crucial, but Grenache is the main player and there are numerous other red grape varieties allowed in the wines. The most important being Mourvèdre, Carignan and Cinsault. Whites wines are mostly made from Viognier, Marsanne and/or Roussanne, with cheaper blends often being based on Grenache Blanc.
Châteauneuf-du-Pape in the southern Rhône.
The key to a basic understanding of the wines of the Rhône Valley is the appellation system. When faced with a selection of Rhône wines, it is this which will help you divine what is smart and what isn't. This is how it works:
Côtes du Rhône AOC: This is the entry level stuff, it accounts for about 70% of production. Most of it is red and made from Grenache-dominated blends. It tends to be light, fruity and easy drinking. A small amount of white is made and a certain amount of rosé too. 
Côtes du Rhône Villages AOC: The subtle addition of the word 'Villages' should be looked out for as it denotes quite a step-up in quality. Again, red makes up the great majority of production with Grenache being the dominant grape. These are often very good value and a safe bet in any restaurant. 
Côtes du Rhône Villages + the actual name of a village: Specific villages can be promoted up to this level if they show sufficient class. A few examples are Roaix, Sablet and Plan de Dieu. There are 21 villages in this category. As an example, the label would read – Côtes du Rhône Villages Roaix AOC. They can be very high quality and very good value.
The individual Crus: At the top of the pile are the Crus. Appellations that can dispense with any mention of Côtes du Rhône AOC and just write their name on the label. For example, Rasteau AOC or Vacqueyras AOC. They make up 20% of Rhône production, there are 17 of them and again they can offer some serious drinking at very good prices (in the south at least, not so much the north). A few of the best known are Châteauneuf-du-Pape AOC, Gigondas AOC (in the south) and, as mentioned earlier, Hermitage AOC and Côte-Rotie AOC in the north.
Caveat! Although the appellation system is designed to show different levels of quality, there are always exceptions. Some Villages wines for example might be better than some of the Crus, but if the vineyard is outside any of the 17 Cru's borders, then the wine cannot be eligible for Cru status. As a rule of thumb though the above will give you a pretty good idea of where you stand.
Continue reading