Mollard et Fillon, 'Vu d'en Haut', Terrasses du Larzac, Languedoc, France 2015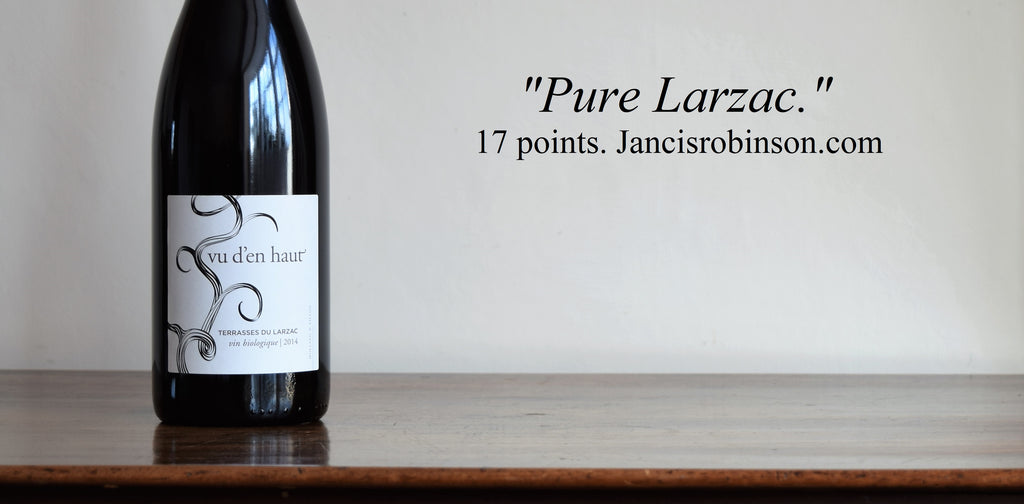 The tiny Terrasses du Larzac appellation lies just to the north of Montpellier on the southern slopes of the Larzac plateau. It was carved out of the larger Languedoc appellation in 2004 in recognition of its unique terroir, and is now seen by many as one of the best spots in the region.
Sébastien Fillon is one of Larzac's rising stars and together with his wife Béatrice and brother-in-law Nicolas Mollard, they produce the Mollard et Fillon, Terrasses du Larzac red. It is 100% organic and made from a combination of Grenache, Syrah and Carignan. The grapes are bought from a selection of the best vineyards in the area (all hand harvested) and vinified at Domaine Clos du Serre - the Fillon's much lauded Terrasses du Larzac estate. It is then aged for one year (partially in French oak barrels) before release.
The 2015 is a rich, juicy and impressively complex wine that punches well above its £14.95 price point. It is ripe and delicious now but has the structure to age well over the next 4 - 5 years. It will benefit from a couple of hours breathing before drinking.
Offered: April 2018.
Alcohol: 14%.
Vintage report: A great vintage in the Languedoc, generally thought to be on a par with the superb 2010. The wines are rich, deep and well structured.
Drinking window: 2018 – 2023.
Food matching: Nicolas recommends roast lamb or beef ribs with French fries.
Jamie Collins